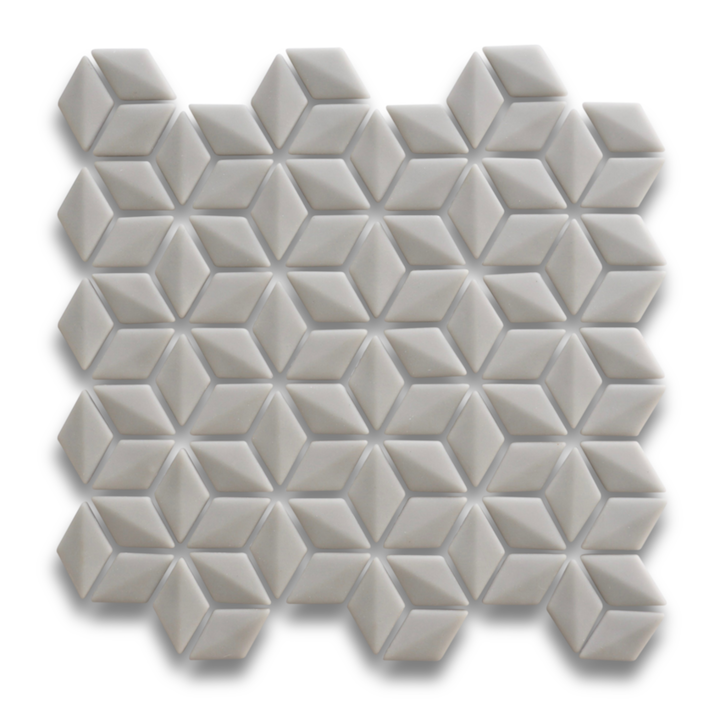 VM 979 – LIGHT GREY Rhombus 3D Recycled Glass Mosaic
Our Rhombus 3D Mosaics are made from 100% Recycled Glass.
This sophisticated Process uses finely ground Glass powder, moulded & fired
into Triangular forms & then meticulously Arranged on a Mosaic Sheet.
The process is known as "Pate de Verre" and stretches back to Millennia.
The surface is Silky Matt to touch & Available in 5 contemporary, solid Colours.
This material is Easy to Cut with a Diamond Blade Wet Saw.
It is non Porous, resists household Chemicals & is perfect as a Tile Feature.
Our offering of 3D Rhombus present a Mosaic tile that has wonderful Depth
as the Light plays across the Surface.
Available in 5 x Colours  –  White,  Green,  Light Grey,  Pink,  Black
12.62 sheets per Sqm
Packed as 11 sheets or 0.87 sqm per Box  –  But can Buy any Quantity
24 x 48 x 6mm Pieces  –  On 280 x 283mm Mesh  –  $ 22.00 / sheet
Discounts are Available for Larger Quantities
Ex Wollongong NSW warehouse  –  Freight Costs may Apply
GC 30