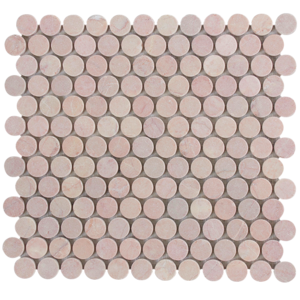 VM 681 – Rosado Tumbled Penny Round
Rosado is a Unique product, with beautiful soft Pink & subtle Orange tones.
The silky Tumbled surface feels Ancient, with its natural clefts & soft edges.
Antique, tumbled Marble  –  In a circular, penny round Mosaic, on mesh backing
11.42 sheets per Sqm  –  Packed as 5 sheets per Box  –  But sold per Sheet  (any Quantity okay)
23 x 23 x 10mm  –  On 305 x 287mm  –  $ 34.00 / sheet  (+ Freight)
 Please Note: Variation in colour and shade are Normal occurrences with all Natural Stone products
and should be Expected.  Our images represent, but may not Indicate, all of these Occurrences.
Discounts are Available for Larger Quantities
Stock ex Wollongong, NSW
GC 30