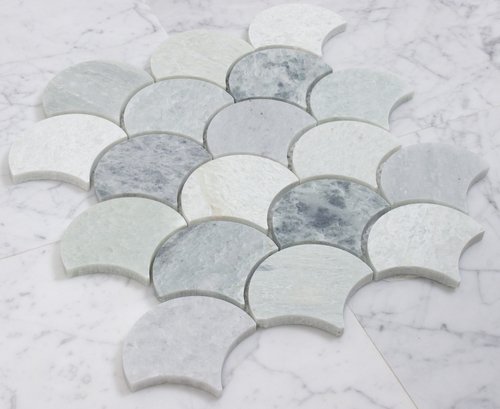 VM 467 – Verdi Cristallo (Ming Green) – Honed FAN (Shell) Mosaic

Verdi Cristallo (or Ming Green) Honed Marble  –  Fan (or Shell) Mosaic on Mesh Backing
15.58 sheets per Sqm  –  5 sheets per Box
71 x 80 x 10mm  –  On 244 x 263 x 10 mm  –  $ 46.00 / sheet  (+ Freight)
Verdi Cristallo (or Ming Green) exhibits subtle & various tones from white through to grey, & luminous greens within a deep crystal structure.
The stone when presented as mosaic, blends easily into the space, as the grey tones harmonise well with popular cement, basalt or dark inky floors.
On trend black tapware completes this classic, contemporary look.
A note to Trades – This stone cuts well and is not moisture sensitive – But sealing is Recommended.
Available in – Herringbone, Chevron, Fan / Scales, Alhambra, Hexagon, Long Hex, Arabesque, Penny Round, Subway Tile
* Please Note: Variation in colour and shade are Normal occurrences with all Natural Stone products and should be Expected.
Our images represent, but may not Indicate, all of these Occurrences *
Discounts are Available for Larger Quantities
Ex Wollongong, NSW
GC 30